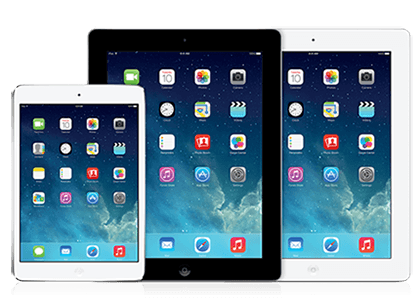 iPad Repair
If you're in need of iPad repairs, whether you own a first-generation model or the latest iPad Pro, our certified tech team is here to help. Whether you use your iPad for work, entertainment, or keeping life organized, Fix Apple Now can run diagnostics and find the problem quickly. Many times, if we have the parts in stock, we can fix your iPad the same day, or for major problems, less than 48 hours. Use our fast service to fix iPad cracked glass, replace battery, fix iPad screen or display problems, replace home buttons, fix charging port, password unlock & more.
   FAQs  
How much would it cost to repair your iPad?
Prices depends on exact model number, year and part to be replaced. We offer free estimates, visit one of our stores or give us a call for a free quote.
Where can i get my iPad fixed?
Are you searching for "iPad repair near me" all over the Internet? Visit our Hallandale or Weston stores in the Miami area, or use our secure mail-in option for fast and effective service.
How long would it take to repair your iPad?
Most repairs will be completed within 4-12 hours. For major repairs, we will strive to deliver your fixed device in less than 48 hours.
How much does a screen repair cost?
Prices depends on exact model number. One cracked iPad screen replacement cost from $90 for an older model and up to $450 on newer iPad Pro models. We offer free estimates, visit one of our stores or give us a call for a free quote.
 Diagnostic Service and free quote.
Not sure if your iPad is broken? Or maybe you think there's something wrong and cannot figure it out. We'll run a series of tests to find out exactly what the issue is.
Well, we offer inspection services where we diagnose what the problem is. After diagnostic we will move towards how to fix, how much it will cost and how long would it take.
Customer Approval for Repairs.
No repairs will be done without receiving your permission to proceed with repairs, and you approve the quote. If you decided not to get your product repaired, we will pack up your product and return it.
Common iPad Issues
Are you noticing your iPad's battery life is draining much quicker than it used to? Have you damaged the screen? Or is your home button simply not functioning any more? Now you have a better option. Do not despair, our team of tech repair specialists can have your iPad fixed and back up and running again.
There are a number of tech issues people encounter when an iPad becomes problematic. From cracked screens and LCD repairs, to dirty or broken charging port, or home button our tech team has seen it all. In most cases we can have your iPad fixed and back in your hands within 8 hours. Although screen repairs are the main issue with iPads that come to us, we can also replace your battery, replace the home button, repair the charge port or fix your broken camera.
If you're in need of any of these repairs for your iPad, contact Fix Apple Now. We will examine your iPad, run diagnostics, and provide a consult and quote for you at no charge. Fix Apple Now takes pride in our quality customer service and has received 5-star ratings from our customers.
Fix Apple Now offers certified professional techs, top quality parts, three-month warranty, and friendly knowledgeable staff to help you. And because we specialize in Apple products, our tech specialists have the expertise required to make certified Apple repairs.
We fix the following iPad Models
Visit our Weston or Hallandale  stores for repairs near you, or use our secure nationwide mail-in option for fast and effective service.
Location:
2806 Weston Rd #B, Weston, FL 33331
Service areas
Fix Apple Now is a Miami area based company proudly serving neighbors from the following locations:
Sunrise, Plantation, Fort Lauderdale, Davie, Cooper City, Weston, Southwest Ranches, Pembroke Pines, Miramar, Dania Beach, Hollywood, Hallandale Beach, West Park, Aventura, Sunny Isles Beach, North Miami and North Miami Beach areas or anywhere in the U.S.A. via our mail-in service.
Other Repairs:

iPhone

MacBook Pro

MacBook Air

iMac