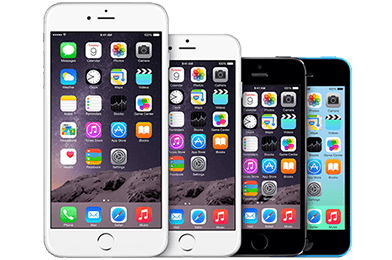 Apple iPhone Repair
Professional iPhone Repair
Get high-quality iPhone repairs from the experts, we specialize in cracked screen replacements, battery change, charging port & logic board repair. We are certified Apple Repair Specialists. Our certified team of technicians are experienced with all type of iPhone repairs and have many years' experience under their belt. 
If you're in need of iPhone repairs whether you own an iPhone 7 or a newer model we are here to help. Whether you use your iPhone for work, entertainment, or keeping your life organized.
Fix Apple Now can run diagnostics and find the problem quickly. We can replace your iPhone screen in 1-2 hours or for major problems, less than 5 days. Visit our location for fast and effective service or give us a call.
Our Most Common iPhone Repairs Are:
Broken or cracked screen replacement

Damaged charging ports

Batteries that don't hold a charge
Other tech services include fixing an iPhone logic board, data recovery and charge port cleaning. If you forgot your passcode but remember your Apple ID we can help to recover your phone.
iPhone Screen Repair
With the iPhone screen replacement performed in as little as 1 hour, feel free to wait with us in-store, or leave your smartphone and come back later to collect it at one of our stores.
Charging Port Replacement
If you are having issues with your iPhone not responding when you connect it to the charger, not charging properly or intermittently, or is not recognized by iTunes when you connect it to your computer then the charging port has to be replaced for a new one. We can perform this repair in 2 hours or less.
Battery Replacement
Is your iPhone battery discharging too quickly, you can't  go through the day without charging it several times, or may be your phone shows only apple logo and shuts off?
If you want this issues fixed the battery has to be replaced, our technicians will replace the faulty battery for a fresh one, test that the new battery is working properly and return your phone in fully working condition.
Buying New Versus Repairing
We are experts in iPhone screen replacement, battery change, charging port and logic board repairs and data recovery for all iPhone models. Rather than purchase a new phone, consider letting Fix Apple Now fix what you currently own.
The cost of a new iPhone versus the affordability of fixing what you have could save you hundreds of dollars. If your operating system needs an update, many times diagnostics, a quick update, and cleaning can keep your device working properly for years.
Think about it – the more your iPhone does, the more that can go wrong.
If your iPhone is performing slower than normal or you've noticed delayed responses, bring it to Fix Apple Now for diagnostics. We can help identify exactly what is going wrong so our tech team can solve the issue.
Other Repairs:

iPad

MacBook Pro

MacBook Air

iMac
Location:
2806 Weston Rd #B, Weston, FL 33331
Service areas
Fix Apple Now is a Miami area based company proudly serving neighbors from the following locations:
Sunrise, Plantation, Fort Lauderdale, Davie, Cooper City, Weston, Southwest Ranches, Pembroke Pines, Miramar, Hollywood, Hallandale Beach, West Park, Aventura, Sunny Isles Beach, North Miami and North Miami Beach areas or anywhere in the U.S.A. via our mail-in service.