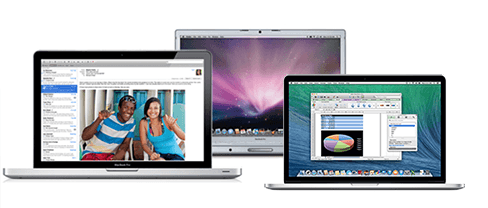 MacBook Pro Repair
Expert Repair Service
Are you looking to get your MacBook Pro fixed? Do you experience any of the following symptoms with your laptop: display has no picture after you turn it on, you don't hear any fan or hard disk activity sounds after after you turn the laptop on, doesn't seem to have any power when you try to try to turn it on or the laptop shuts down randomly during use? Or maybe you spilled liquid on your MacBook Pro? Then you've come to the right place for affordable and reliable repair. We specialize in troubleshooting and fixing hardware and macOS problems of MacBook Pro computer models. At Fix Apple Now, we have a team of knowledgeable Apple logic board technicians who have extensive practical understanding and experience of component level repairs.
Most Common MacBook Pro Repairs:
The most common repairs are: broken screen, liquid damage, trackpad or keyboard not working, Laptop not turning on and battery not charging.
We can troubleshoot & repair any issue with your MacBook Pro. Our certified technicians repair broken LCD screen, crashed hard drive or SSD, flashing folder with a question mark, water damage, keyboard, logic board repair, trackpad, replace battery and more!
We can help with MacOS and iOS issues and can repair or reinstall your device and get it running smoothly again. If you need your data transferring from your old Mac to a new MacBook Pro, we can help.  Once the transfer is complete, we check that you are happy with the transfer.
We offer best high quality repairs and quick turnarounds, most services can be carried out within 1 to 4 days. Our MacBook Pro repair services are affordable, reliable, and backed up by our 90 days warranty on parts and labor.
Not sure if your MacBook Pro is broken? Or maybe you think there's something wrong and you cannot figure out. Well, we offer inspection services where we diagnose what the problem is. After diagnostic we will move towards how to fix, how much it will cost and how long would it take. It is quite common for consumers who are not so apt with technology to get stuck in common errors and glitches. Well, we are here to help you figure it out! Use our MacBook Pro repair services to replace screen, trackpad, keyboard, charging port, battery and more!
MacBook Pro Battery Replacement
After 1 year of use the battery doesn't keep the charge as before. Sometimes the battery may just stop to hold the charge at all. We will replace the battery with original or OEM replacement in our store and provide you with warranty. And, unlike official Apple repair services in most cases we will complete the repair of your MacBook Pro battery the same day if we have the battery in stock or next day.
MacBook Pro Liquid Damage Repair
Liquid spillage on a MacBook Pro may result in a failure of the logic board, or other internal components causing problems and eventual computer death. MacBooks Pro with liquid damage can be repaired by specialized Apple repair experts. Our logic board repair techs have fixed hundreds of liquid damaged logic boards that official stores rejected to fix.
We specialize in the following MacBook  Pro Models
How much would it cost to repair your MacBook Pro?
Prices depends on exact model number and year. We offer free estimates, visit one of our stores or give us a call for a free quote.
How long would it take to repair your MacBook Pro?
 Most repairs will be completed within 1-3 days. For major repairs, we will strive to deliver your fixed device in less than 6 days.
Where can i get my MacBook Pro repaired?
 Are you searching for "MacBook Pro repair near me" all over the Internet? Visit our Weston store for repairs near you or use our secure mail-in option for fast and effective service.
Diagnostic Service and free quote.
Not sure if your MacBook Pro is broken?  We'll run a series of tests to find out exactly what the issue is. After diagnostic we will move towards how to fix, how much it will cost and how long would it take.
Select MacBook Pro generation for repair.
Location:
Other Repairs:

iPhone

iPad
Use our mail service or stop by at our location for high quality repairs in Weston, FL