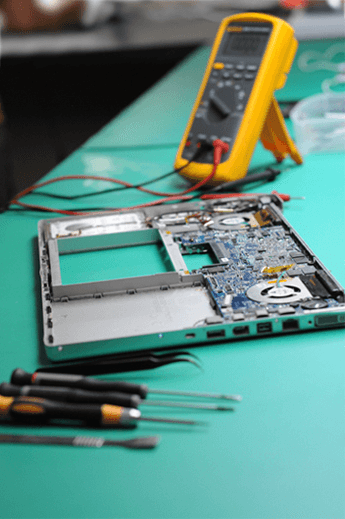 FAQ
Do you offer discounts on multiple repairs?
Yes. If you have several devices that need repairs or have a device that has several problems we will offer discounted pricing. Contact us at 1-954-639-7097.
I can't find a repair I need, can you help?
Definitely! If you can't find the repair you need call us 1-954-639-7097. We will advise if we perform such a repair service.
I tried to fix my Apple device on my own, but couldn't finish repair. Could you do the repair for me?
Yes, we could finish the repair for you and make sure it's assembled properly. Please bring it in to our repair store or purchase the diagnostic service and send your device in. We will call you the same day we receive it with a quote before doing any repairs.
What parts will you use to fix my device?
We do our best to use best parts available on the market. We use OEM parts if available. If OEM parts are not available we use new third party manufacture parts. For some vintage computers new parts may not be avaiable, in this case we will offer you used parts options. All parts come with three months warranty.
Will I lose my information?
Although we endeavor to keep all info on your device, it is strictly customer's responsibility to back up valuable or sensitive data before bringing / sending the device in for repair / diagnostics service. Fix Apple Now is not responsible for any data loss or data breach while device is in our possession. Fix Apple Now, Inc cannot guarantee (although we work hard to protect) the security and/or privacy of your data. If your product is capable of storing software programs, applications, songs, video or picture files, you must protect its contents against loss or possible operational failures during repair work. Before you deliver your product for diagnosis or service it is your responsibility to keep a separate backup copy of the contents, remove all personal information and data that you want to protect and disable any security passwords or include any passwords with your device.