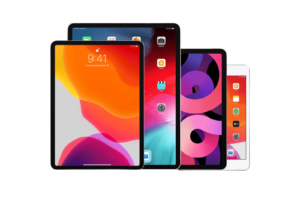 iPad Repair in Weston:
Screen, Battery & Other Repairs
Professional Repair Service
If you are looking to get your iPad repaired near Weston, we offer fast, reliable, and affordable repairs for iPad users in the area, our certified technicians replace iPad screens, battery, fix charging port and more. Whether is an iPad mini, iPad Air or the latest iPad Pro that you need to replace the screen we are here to help. Specializing only in Apple tablet repair, Fix Apple Now offers the best Apple iPad screen replacement in the industry. We can run diagnostics and find the problem quickly. Most times, we can repair your iPad in 8 hours or less, or for major problems, less than 48 hours, we keep parts in stock so most of the repairs can be done in very little to no time!
Fix Apple Now offers certified professional technicians, top quality parts, and friendly knowledgeable staff. And because we specialize in Apple tablets, our technicians have the expertise required to make certified Apple iPad repairs. Our professional repairs are reflected by our customer's Yelp and Google reviews and show that people see Fix Apple Now as the best iPad repair shop in the area. Visit our repair shop to fix your iPad the same day or ship it to us if you are located too far.
Our iPad Repair Procedure
When you bring your iPad to our store for repair, we will check it in and test it beforehand. After diagnostics, we will discuss how to fix it, how much it will cost, and how long it will take. We will then ask for your approval. If you approve the repair, we will proceed to replace the broken part and test the iPad to make sure it is working properly. We offer the most affordable iPad repair prices in the area because we buy parts in bulk and pass the savings on to you.
iPad Screen Repair & Replacement
If you have an iPad that needs the screen to be repaired, we can help, our thoroughly trained technician can fix your iPad screen in 6 hours or less. The iPad screen replacement is our most called out repair service; we offer fast and affordable iPad screen repair, if you need to get your iPad up and running as good as new.
If your iPad has any of the following problems: a broken front glass, a damaged LCD, vertical lines on the screen, distorted images, problems with the touch functionality, or other similar issues; we can fix them all! The damage usually occurs when the iPad is dropped, hit, bent or when attempting repairs without the appropriate tools and methods. Pay us a visit or call today! If you are located in any of our service areas stop by at our store to replace your iPad screen, use our repair service to fix your iPad screen for less.
iPad Battery Replacement
Does your iPad battery drain faster than usual, charges very slowly or may be it shows only the apple logo and shuts off?  Those are signs that your iPad battery needs to be replaced. Our iPad battery replacement service is fast, affordable and usually takes less than a day. We will replace your old battery for a new one, once we have placed the new battery, we will run various tests to ensure it is working properly.
iPad Charging Port Repair
Did your iPad stop charging? Does it not respond when you connect your charger? Or may be computer or iTunes doesn't recognize it? If you need this issue fixed, the charging port has to be replaced. We can do this repair same day. Repair parts in stock. Your iPad charging port will be fixed and work like new!
iPad Repair Near You
Get your iPad fixed quickly and affordably near you
If you live or work near Weston or its surroundings, Fix Apple Now is just 29 minutes away and can help if you need an iPad screen replacement, battery change or charging port repair near you. We have years of experience behind us when it comes to returning iPads to their former glory and have a proven ability to deal with a host of issues successful. For local repairs visit our store or give us a call, walk-ins are welcome. If you are located in any of our service areas stop by at our store to repair your iPad. Use our repair service to fix your iPad for less. 
FAQs
How much does it cost to fix a iPad?
This is entirely dependent on the circumstances surrounding your repair and the parts to be replaced. We will be happy to provide you with a free estimate.
Is it worth it to replace iPad battery?
Replacing a iPad battery is much easier and cheaper than buying a whole new one. You will save time and money.
Is it worth fixing a iPad?
If your device is not older than 5 years is almost always better from a financial perspective to fix a iPad rather than purchasing a whole new one.
Is it worth it to repair iPad screen?
If you don't have Apple Care+ or warranty, getting a iPad screen replacement is much easier, cheaper and faster than buying an entire new iPad & if is worked on by a qualified and professional technician the screen will look the same again. You will save money.
Where can i repair my iPad?
You can get your iPad repaired at one of our locations, visit our store for fast turnaround repairs or give us a call.
How do I get my iPad repaired?
You can either book us by calling or bring your iPad to our store directly. Walk-ins are welcome.
How long would it take to repair your iPad?
Most repairs will be completed within 4-8 hours. For major repairs, we will strive to deliver your fixed device in less than 48 hours.
Diagnostic service and free quote.
Not sure if your iPad is broken? Or maybe you think there's something wrong and cannot figure it out, perhaps you need an iPad screen replacement. We'll run a series of tests to find out exactly what the issue is. After diagnostic we will move towards how to fix, how much it will cost and how long would it take.
We only use Best High Quality Parts
Another essential aspect of our company is the fact that only best high quality parts are used. Using high quality parts not only makes your iPad perform the same way as before, it also reduces the risk of malfunctioning as it often happens when fake parts are used. Our number one rule is to use best quality parts as it indeed helps in maintaining the integrity and value of your iPad.
Customer approval for repairs.
No repairs will be done without receiving your permission to proceed with repairs, and you approve the quote. If you decided not to get your Apple tablet repaired, we will pack up your product and return it. You pay only after the repair is done.