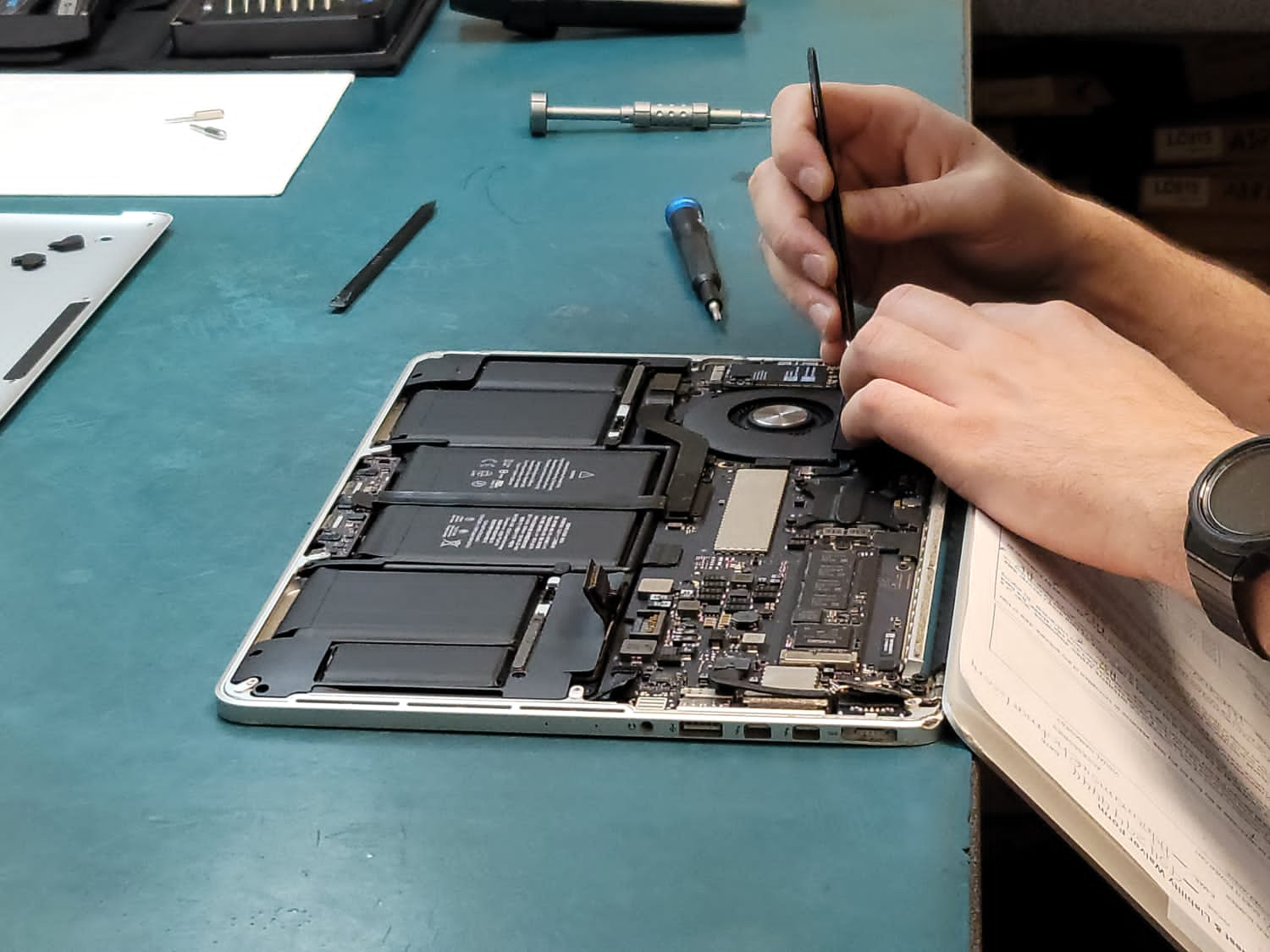 MacBook Repair in Weston: Screen, Battery & Other Repairs
MacBook Repair
Are you looking for a MacBook repair near Weston, FL we offer fast, reliable, and affordable repair for MacBook users in the area, our certified technicians replace MacBook screens, battery, repair liquid damage, failing hard drive, speakers, fix logic board, charging port, trackpad and more. We specialize in troubleshooting and solving hardware and macOS problems on MacBook. Specializing only in Apple devices, Fix Apple Now offers the best MacBook screen repair in the industry. We can run diagnostics and find the problem quickly. Most times, we can replace your MacBook screen in 8 hours or less, we keep parts in stock so most of the repairs can be done in very little to no time!
Professional Repair Service
Fix Apple Now offers professional MacBook repair, certified technicians, top quality parts, and friendly knowledgeable staff. And because we specialize in Apple products, our technicians have the expertise required to make certified MacBook repairs. Our professional repairs are reflected by our customer's Yelp and Google reviews and show that people see Fix Apple Now as the best MacBook repair shop in the area. Visit our repair shop to fix your MacBook or ship it to us if you are located too far.
If you want to transfer data from your MacBook to your new Mac we offer data migration or data transfer. Fix Apple Now has been in business since 2010 and provides professional repairs and upgrades for residential and business clients in the area and nationwide via our mail-in repair. If you are looking for a fast and affordable MacBook repair, we are here to help!
Do you experience any of these problems with your MacBook
Cracked or broken screen, battery does not charge, laptop is slower than usual, does not turn on, spilled water on your laptop, MacBook displays a blank screen, a flashing folder with a question mark appears when you start your computer, distorted or scrambled video, experiencing start-up or login issues, no image on the screen, computer restarts unexpectedly, stuck or non-responsive keys or experiencing Wi-Fi issues when using your laptop?
At Fix Apple Now, we have a team of knowledgeable MacBook logic board technicians who have extensive practical understanding and experience of water damage and component level repairs. We also perform macOS upgrades and installation, data recovery, and anything else your MacBook may need. All repairs come with a warranty on parts and labor.
Our MacBook Repair Procedure
When you bring your MacBook to our store for repair, we will check it in and test it beforehand. After diagnostics, we will discuss how to fix it, how much it will cost, and how long it will take. We will then ask for your approval. When you approve the repair, we will proceed to replace the broken part and test the MacBook to make sure it is working properly. We offer the most affordable MacBook repair prices in the area because we buy parts in bulk and pass the savings on to you.
Most Common MacBook Repairs
Screen repair and replacement

Battery replacement

Liquid damage repair

Hard drive repair & upgrade

Charging port repair or DC in board

Speakers

Logic board repair and replacement

macOS installation and upgrade

macOS virus cleanup and removal

Trackpad replacement

Keyboard repair and replacement

Data migration or data transfer
MacBook Screen Repair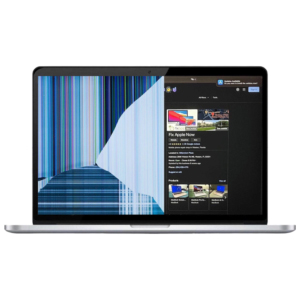 Cracked or broken MacBook screen? No display or image on Apple laptop?
At Fix Apple Now our technicians can fully facilitate a MacBook screen replacement. MacBook screen repairs is one of the most popular service. The repair usually takes 1 day depending on which model of MacBook you have. Screen repair requires an experienced hand and a specific set of tools. If you need to get your MacBook up and running as good as new, then it's highly recommended you have the screen serviced by a trained professional. If you need a low-cost MacBook screen repair in the area then contact us.
MacBook Battery Replacement
MacBook battery not performing as usual?
After 1 year of use you can find that your MacBook battery doesn't keep the charge as before. Sometimes the battery may just stop to hold the charge at all. We will replace MacBook battery with an original or OEM replacement in our store and provide you with a warranty for the repair. Unlike official repair stores in most cases we will complete the battery replacement for your laptop the same day, if we have the battery in stock or next day. Our MacBook battery replacement service is fast, reliable, and affordable.
MacBook Liquid Damage Repair
Liquid or water spillage on a MacBook may result in a failure of the logic board, keyboard, battery and other internal components causing performance issues and eventual computer death. MacBook with liquid damage can be repaired by specialized MacBook repair experts. Our logic board repair technicians have fixed hundreds of liquid damaged MacBooks that official stores rejected to fix.
MacBook Hard Drive Repair
Our team is specialist in MacBook hard drive repair and offers affordable and efficient Hard drive replacement for your MacBook model. Is your MacBook not booting, starts the macOS and only shows the Apple logo, crashes frequently or is very slow, shows a flashing folder with a question mark; most likely the hard dive or ssd on your MacBook is damaged and has to be replaced.
Need extra storage in your MacBook?
MacBook hard drive or SSD upgrades to increase storage space. If your MacBook is running low on space and you want to add additional storage then we can upgrade your internal drive to a much larger capacity so you can add to your ever expanding photo and music libraries! The repair usually takes one day, depending on how much data has your MacBook hard drive.
MacBook Repair Near You
Get your MacBook fixed quickly and affordably near you
If you live or work near Weston, FL or its surroundings, Fix Apple Now is just 29 minutes away and can help if you need an MacBook screen replacement, battery change or charging port repair near you. We have years of experience behind us when it comes to returning MacBooks to their former glory and have a proven ability to deal with a host of issues successful. For local repairs visit our store or give us a call, walk-ins are welcome. If you are located in any of our service area stop by at our store to repair your MacBook. Use our repair service to fix your MacBook for less
More and more MacBook owners are heading straight to Fix Apple Now when they need affordable, high-quality and affordable MacBook repairs. Over the years, we've built a team of expert engineers who are never happy until they've delivered the outstanding repair you require. Visit us today if you need to fix your MacBook for less.
We only use OEM Parts
Another essential aspect of our company is the fact that only genuine or OEM parts are used. Using original parts not only makes your device perform the same way as before, it also reduces the risk of malfunctioning as it often happens when fake parts are used. Our number one rule is to use best quality parts as it truly helps in maintaining the integrity and value of your MacBook.
FAQs
Can a MacBook be repaired?
MacBook can be repaired by qualified and specialized professionals. If your MacBook is broken, give us a call!
Is it worth fixing a MacBook?
If your laptop is not older than 10 years is almost always a better idea from a financial perspective to fix a MacBook rather than purchasing a whole new one.
How much does it cost to fix a MacBook?
Prices depends on exact model number, year, the circumstances surrounding your laptop repair and the part that has to be replaced. We offer free estimates, visit one of our stores or give us a call for a free quote.
Is it worth it to replace MacBook battery?
Replacing a MacBook battery is more affordable than buying a whole new MacBook. You will save time.
Is it worth it to repair MacBook screen?
If you don't have Apple Care+ or warranty, getting a MacBook screen replacement done is much easier, cheaper and faster than buying an entire new MacBook & if is worked on by a qualified and professional technician the screen will look the same again. You will save money.
How long would it take to repair your MacBook?
Most repairs will be completed within 1-2 days. For major repairs, we will strive to deliver your fixed MacBook in less than 4 days.
Where can i get my MacBook repaired?
Are you searching for "MacBook repair near me" all over the Internet? Visit one of our locations in the area for fast turnaround repairs or give us a call.