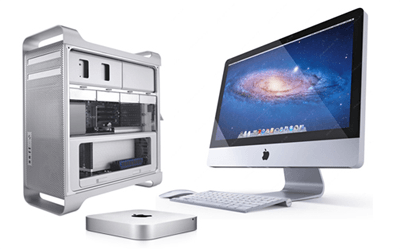 Mac Desktop Repair
Professional repair & upgrade service
Our team is specialist in Mac desktop repair and offers affordable and efficient repair for your Mac desktop model. We can troubleshoot & repair almost any issue with Apple iMac and Mac Mini
Our expert technicians repair crashed hard drive, SSD, damaged LCD, power supply, fans not working, upgrades & more.
We can help with macOS issues and can repair or reinstall your macOS operating system and get it running smoothly again. If you need your data transferring from your old Mac to a new Mac desktop, we can help, once the transfer is complete, we check that you are happy with the transfer.
We specialize in troubleshooting, upgrades and fixing hardware and macOS problems of all Mac desktop models; at Fix Apple Now in Weston, Forida, we have a team of knowledgeable Apple logic board technicians that have extensive practical understanding and experience of Mac desktop upgrades & repair.
We offer professional upgrades & repairs and fast turnarounds, most upgrades can be carried out within 1 to 4 days, our Mac desktop repair is affordable, reliable, and backed up by our warranty on parts and labor.
Our Mac Desktop Repair & Upgrade Procedure
When you bring your Mac desktop to our store in Weston, FL for upgrades or repairs, we check it in, run full diagnostics and test it beforehand, after diagnostic we will move towards how to fix or upgrade your Mac desktop, how long would it take, how much it will cost and ask for your approval; when you approve, we will proceed to replace the broken part, and then test it again to ensure everything works.
Our Mac Desktop Repairs Covers
Power supply repair
Hard drive repair / replacement
Crashed SSD
Flashing folder with question mark
Not Sure if Your Mac Desktop is Broken?
Maybe you think there's something wrong with your desktop and cannot figure out or perhaps you are looking to upgrade your Mac desktop, we offer Mac desktop diagnostic where we check out and troubleshoot what the problem is. It is quite common for some consumers who are not so apt with technology to get stuck in common errors and glitches, we are here to help you figure it out!
Mac Desktop Repair & Upgrade Near You
Get your Mac Desktop upgraded or fixed fast and affordably near you
If you live or work near Weston, FL or its surroundings, Fix Apple Now – Weston is just 29 minutes away and can help if you need an Mac desktop hard drive replacement or SSD upgrade near you. We have years of experience behind us when it comes to returning Mac desktop to their former glory and have a proven ability to deal with a host of issues successful. For local repairs visit our repair shop or give us a call, walk-ins are welcome. If you are situated in any of our service areas stop by at our store to repair or upgrade your Mac desktop. Use our repair service to fix and upgrade your Mac desktop for less.
Mac desktop repairs are available for walk in customers only. Bring you Apple Mac desktop for repair to Fix Apple Now store in Weston, FL. Call with any questions 954 639 4770!