List of iOS 10 Features with iPhone 7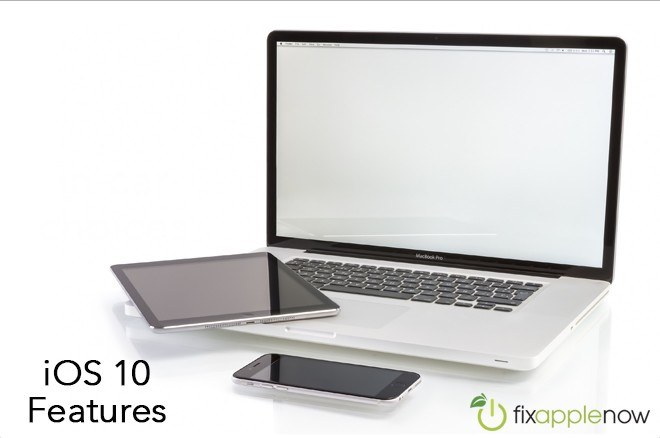 We finally got an iPhone 7 in our hot little hands. Yes, all the reports that state "the iPhone 7 is a lot like its predecessor" are true. The design is identical with the exception of the newly designed camera, plus there is an additional lens on the iPhone 7 Plus. The new "jet black" color is flashy but fragile, as it is prone to scratches. But, once you slip on a new case, it will look just like the iPhone 6 anyway. What do you think of the new iOS 10 upgrade that's available?
The quick and dirty of iPhone 7 and iOS 10
The guts of the iPhone 7 and iPhone 7 Plus are pretty Apple-amped with faster processors, higher megapixel lenses, and slightly larger batteries. At the end of the day, we don't miss the headphone jack as much as we thought we would – the AirPods are pretty cool and hey – no cords required. Indeed, we live in a wireless world and we continue to move away from the cord more and more. With every upgrade, Apple offers more convenience and less hassle.
With the iOS 10, Apple users will discover more personal touch features in Messages, a faster way to stay organized and some really cool benefits with Apple supported apps. But the most important thing about the iOS 10 upgrade is whether #appleaddicts will feel like it makes life's to-do list easier is to manage. Does the new iOS 10 do enough to help streamline communications, update our calendars and access what we need quickly? Sure the camera helps capture the things we like and love, but will it make us feel closer to our friends? Will the iOS 10 be the next wave of cool-factor?
We think so, but you be the judge.
iOS updates and features
You don't need an iPhone 7 to update your phone. As long as you have enough memory and you aren't still lugging around an iPhone 4, you should be fine. USA Today has praised the top features of the new iPhone iOS 10 upgrade, highlighting ten tweaks that make the upgrade major. There are a ton of cool features, but be ready because after the change you might be lost on your phone for a bit. Check sound levels, ringtones and other personal settings after you update to iOS 10. If you have purchased the iPhone 7, you shouldn't have an issue getting around on the new device, as it is similar to previous models.
Short list of the things you'll notice with the iOS update:
Recurring Bedtime alarm feature
"Hey Siri" now only activates one device at a time
App downloads can be prioritized
Unlimited tabs in Safari
Faster Camera launch
Read receipts by conversation in Messages
Live Photos stabilization
New Photos app can recognize over 4,000 types of objects and seven facial expressions
Location recommendations in Calendar
There's a system-wide "look up" feature
 Conversation views in Mail
Markup in Messages
Side-by-side Mail composes for iPad
Live Filters for Live Photos
Sort Favorites in Apple News
Get notifications on where you last parked your car
iCloud Drive Desktop folder
Apple Pay is available in Safari
Improved find feature in Messages
Ability to avoid tolls in Maps
There is a mailbox column
Send attachments faster in Messages
No Game Center app, but service is available
"Press home to unlock" replaces "Slide to unlock"
Messages Read receipts available for individual Contacts
New keyboard sound available
Option for cellular data in 3D Touch Quick Actions
iCloud Drive Documents folder
Take photos while listening to music
Optimized storage for Music
iOS 10 kernel is left unencrypted intentionally
Widgets now show up on left side of Home screen, as well as left side on Lock screen, and even on left side of Notification Center system-wide
Flashlight control offers Low Light, Medium Light, Bright Light options
New file system is called 'Apple File System'
Notifications for specific publishers in Apple News app
More than 100 new Emojis available
You can close all tabs in Safari at once by tapping and holding the tabs button
Can quickly search bookmarks and Reading List in Safari
The song lyrics are available in Apple Music
Calendar can recommend other events based on prior events
There are more iOS 10 features available for your Apple devices and together with the new sweet iPhone 7 and iPhone 7 Plus, we think you'll have your hands full for a while.