No products were found matching your selection.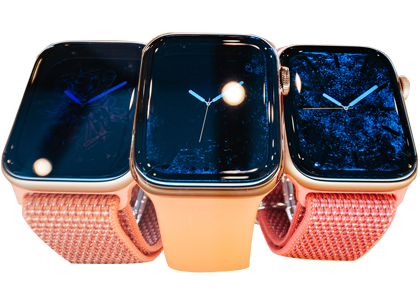 Apple Watch Repairs
One of the timeliest products ever released by Apple is the Apple Watch. It incorporates scheduling, calling, fitness tracking, and syncs with other Apple products and services. Because of its smart features, this device has quickly become an essential part of personal and business activities. But, when it malfunctions, it can quickly become a problem. Fix Apple Now specializes in fixing Apple Watches series 1, 2, and 3. Our prices are based on the series and repair problem, so please inquire if you need our assistance.
Since Apple Watch is relatively new technology, there are only a few qualified technicians who can repair your device. Fix Apple Now has certified Apple technicians on staff who excel at Apple technology and watch repairs. We offer a complete diagnostics check, ensuring you only get a repair or replacement needed.
Common Apple Watch problems
Cracked screen
Speaker malfunction
Battery won't charge
Watch apps aren't working
Irregular rhythm notifications
Connectivity issues
Apple Watch repairs are very different from other issues you may experience with other Apple products. Despite many updates, customers deal with Bluetooth issues, battery replacement, syncing problems, LTE connection issues, short battery life, cracked screens, and slow performance. If you are dealing with any of these glitches, call Fix Apple Now and let us run diagnostics. Should your problem continue, or return, we also offer a 3-month warranty on all repairs because the most important thing to us is customer satisfaction. Many watch issues can be resolved by simply restarting your device. You can also try unpairing your watch from your iPhone and then pairing it again to see if that helps. If you don't have AppleCare+ or if your device isn't covered, please contact Fix Apple Now for watch repairs.
Contact us for Apple Watch repairs. Visit Hallandale or Weston stores in the Miami area, or use our secure mail-in option for fast and effective service. Call now 954 639 7097.
What our Customers Say